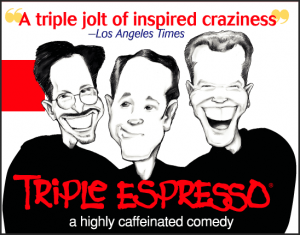 Last year I set a goal of stepping out of the box, and decided to expose myself to some cultural learning, which included seeing at least three plays. Having enjoyed the plays so much, this year I've decided to expanded the goal to see at least six.
Having heard so much about a local play/comedy called Triple Espresso, this seemed like a great way to start the year off. It was entertaining, but not quite what I was expecting. I wouldn't call it a real expansion of intellect, but it was entertaining and the company was great.
If anyone has any suggestions your input would be greatly appreciated. I'm thinking that the MN Orchestra might also be a good alternative, but I don't have a clue as to the different types of concerts that are preformed there; either I'll be entertained or put to sleep. I guess that's what expanding your horizons is all about, the fun of experimenting.