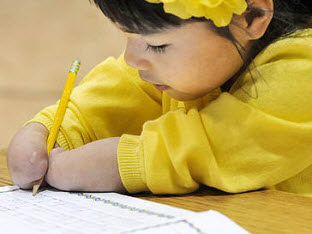 This is an inspiring story of a 7 year old first grader born with no hands was able to a national writing award. My daughter was born with only one hand, so I know all to well what challenges this little girl has overcome, let alone with no hands.
Her dad Tom quoted in the Pittsburgh Post-Gazette said: "Annie has always been very, very determined, very self-sufficient in dressing herself and feeding herself. She can ride a bike. She swims. She is just determined that there's nothing she can't do."
Whenever I read a story like this it helps me to reflect on the blessing that God has given me in my life, and I also wonder if I'm living up to my potential, how many of the little things in life do I take for granted?
"Determination, patience, and courage are the only three things needed to improve any situation." (Anonymous ) I think Annie is the epitome of this quote, and I look forward to reading more about her in the future.